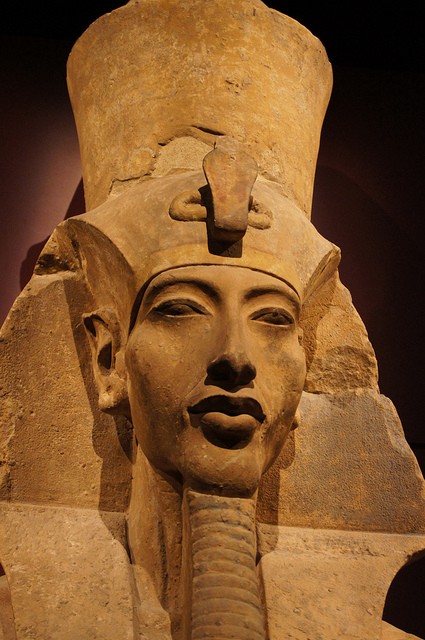 Muhammad accord and the Law of One
I was re-reading the Law of One today when something from the session 2.2 attracted my attention (the text of this session is at the end of this post). The story of Ra's previous contact with people is described in this session, but it's interesting to look at this testimony from the perspective of Ra's challenge related with bringing the idea of Oneness to people who were worshiping many gods.
At some point Ra had success with Akhenaten: "This entity, Akhenaten, became convinced that the vibration of One was the true spiritual vibration and thus decreed the Law of One". But after his death people turned back to polytheism and "continued so until the one known as Muhammad delivered the peoples into a more intelligible distortion of mind/body/spirit relationships".
When I was reading this excerpt today, a memory of Corey talking about the "Muhammad Accord" popped up into my head (this is the policy for extraterrestrials to have no visual contact or appearance in our physical reality). Among other reasons for this Accord, I see that there is possible connection between preventing people from seeing advanced beings ("gods") and helping them not to fall back into the polytheism (which is a hindrance for spiritual advancement).
Obviously such agreement had to look beneficial not only for the positive side (i.e. for ETs who help humanity in the process of spiritual ascension). So, why did the negative ETs agreed to this rule if polytheism was actually serving their goals (to keep humanity more confused)?.. Maybe it's better to say that positive ETs sacrificed their visible presence (that had positive influence on Earth people) for the sake of providing us with better conditions for finding the Truth in Oneness? In this case their opponent probably thought that it was quite a naïve trade-off and happily agreed to that. Perhaps they still think so, seeing how passive we are and not searching for Oneness in any setting, but instead of that so easily get distracted and divided!..
Those are my own reflections that arise every time when I re-read the Law of One. It's amazing material that is able to produce new understanding and fresh ideas every time when I read it. And it's quite interesting too! Highly recommend.
Margarita AoteaRa.com (@Rita.Lev)
– – – – – – – – – –
2.2 Questioner: Could you tell us something of your historical background, your earlier times in the illusion and the time state[?] contact, possibly your incarnation on this planet that you spoke of before, and contact with earlier races on this planet? Then we would have something to start with in writing this book.
Ra: I am Ra. We are aware that your mind/body is calculating the proper method of performing the task of creating a teach/learning instrument. We are aware that you find our incarnate, as you call it, state of interest. We waited for a second query so as to emphasize that the time/space of several thousand of your years creates a spurious type of interest. Thus in giving this information, we ask the proper lack of stress be placed upon our experiences in your local space/time. The teach/learning which is our responsibility is philosophical rather than historical. We shall now proceed with your request which is harmless if properly evaluated.
We are those of the Confederation who eleven thousand of your years ago came to two of your planetary cultures which were at that time closely in touch with the creation of the One Creator. It was our naïve belief that we could teach/learn by direct contact and the free will distortions of individual feeling or personality were in no danger, we thought, of being disturbed as these cultures were already closely aligned with a[n] all-embracing belief in the live-ness or consciousness of all. We came and were welcomed by the peoples whom we wished to serve. We attempted to aid them in technical ways having to do with the healing of mind/body/spirit complex distortions through the use of the crystal, appropriate to the distortion, placed within a certain appropriate series of ratios of time/space material. Thus were the pyramids created.
We found that the technology was reserved largely for those with the effectual mind/body distortion of power. This was not intended by the Law of One. We left your peoples. The group that was to work with those in the area of South America, as you call that portion of your sphere, gave up not so easily. They returned. We did not. However, we have never left your vibration due to our responsibility for the changes in consciousness we had first caused and then found distorted in ways not relegated to the Law of One. We attempted to contact the rulers of the land to which we had come, that land which you call Egypt, or in some areas, the Holy Land.
In the Eighteenth Dynasty, as it is known in your records of space/time distortions, we were able to contact a pharaoh, as you would call him. The man was small in life-experience on your plane and was a… what this instrument would call, Wanderer. Thus, this mind/body/spirit complex received our communication distortions and was able to blend his distortions with our own. This young entity had been given a vibratory complex of sound which vibrated in honor of a prosperous god, as this mind/body complex, which we call instrument for convenience, would call "Amun." The entity decided that this name, being in honor of one among many gods, was not acceptable for inclusion in his vibratory sound complex. Thus, he changed his name to one which honored the sun disc. This distortion, called "Aten," was a close distortion to our reality as we understand our own nature of mind/body/spirit complex distortion. However, it does not come totally into alignment with the intended teach/learning which was sent. This entity, Akhenaten, became convinced that the vibration of One was the true spiritual vibration and thus decreed the Law of One.
However, this entity's beliefs were accepted by very few. His priests gave lip service only, without the spiritual distortion towards seeking. The peoples continued in their beliefs. When this entity was no longer in this density, again the polarized beliefs in the many gods came into their own and continued so until the one known as Muhammad delivered the peoples into a more intelligible distortion of mind/body/spirit relationships.
Recommended

4

recommendations
Published in Awakening & Ascension, ET & Spiritual Contact, Religion, Spirituality